The Secret to Finding the Best Loan
Introduction: Unlocking the Path to Finding The Best Loan
Venturing into the realm of finance to secure the perfect loan is not left to chance; it's the culmination of diligent research and strategic choices. Among a sea of lenders, from banks to credit unions, each promoting their loan programs with enticing terms, the true challenge lies in discerning which loan harmonizes with your financial journey.
Whether you're managing bad credit or flaunting excellent credit, understanding the nuances of loan interest rates, credit reports, and closing costs is pivotal. This guide is committed to aiding you in finding the best loan, ensuring that your monthly income is leveraged to secure the lowest rate while minimizing credit inquiries that could impact your fiscal health. Join us as we demystify the loan acquisition process, empowering you with the knowledge to navigate these critical decisions.
Comprehensive Understanding of Loan Varieties
The financial market is abundant with loan options, each with its unique attributes. Secured loans, backed by collateral such as property or stocks, generally offer lower interest rates due to the reduced risk posed to lenders. Unsecured loans, which do not require collateral, may be more expedient to acquire but often come at the cost of higher interest rates. Within these broad categories lie specialized loans like personal loans, mortgages, auto loans, and student loans, each tailored to specific purposes and needs.
Interest Rates Demystified
Interest rates are the lifeblood of any loan agreement. A lower rate can significantly reduce the overall cost of borrowing. Yet, the allure of a low rate must be weighed against the nature of the rate itself. Fixed rates provide the security of unchanging payments, making financial planning more predictable. Variable rates offer initial lower rates with the caveat of potential increases based on market conditions, which could either work in your favor or lead to higher costs.
Loan Terms: The Devil in the Details
A loan's terms and conditions can either be a boon or a bane. The repayment period's length, the penalties for late payments, and the flexibility of payment schedules should be examined with a critical eye. A loan with a protracted term might mean more manageable monthly payments, but it also translates to a higher total interest paid over the lifespan of the loan. Short-term loans, while imposing higher monthly costs, typically result in lower overall interest expenses.
Lender Credibility: A Cornerstone of Trust
The credibility of a lender is a cornerstone in your journey to secure a loan. A lender's reputation should be assessed through customer testimonials, industry accolades, and ratings from reputable financial institutions. Trustworthy lenders not only promise competitive terms but also follow through with exceptional service and transparent transactions.
Loan Features: Hidden Gems of Flexibility
The right loan features can provide unforeseen advantages. Options such as making additional repayments without incurring penalties, accessing redraw facilities, or enjoying payment holidays can offer financial relief during unexpected circumstances. These features should be regarded as valuable differentiators when comparing loan products.
Credit Score: Your Financial Handprint
Your credit score is a numerical expression of your creditworthiness and can be the deciding factor in the quality of loan terms you are offered. It is influenced by your credit history, including your record of debt repayment and credit utilization. A higher score generally opens the door to lower rates and more favorable loan terms.
Utilizing Loan Calculators for Informed Decisions
Loan calculators serve as a critical resource, enabling you to gauge the implications of various loan amounts, terms, and interest rates. By providing a visual projection of monthly payments and the total interest cost, these calculators can assist in making an informed decision that aligns with your financial plan.
Expert Financial Consultation: Tailored Advice
Consulting with financial experts can provide clarity and direction. These professionals can offer bespoke advice, taking into account your financial situation, goals, and the nuances of the loan market. Their guidance can be instrumental in choosing a loan product that complements your financial blueprint.
The Art of Loan Comparison
Effective loan comparison is an art form that extends beyond basic rate analysis. It involves a holistic view of each loan's terms, features, and long-term implications. Utilize comprehensive comparison platforms, but also engage in direct dialogue with lenders to unearth the full value proposition of their loan offerings.
Negotiation: A Pathway to Better Terms
Negotiation is a powerful tool in the loan acquisition process. With a solid credit history and a clear understanding of your financial leverage, you may be able to negotiate terms that are more favorable than the standard offerings.
Hidden Costs: The Unseen Pitfalls
Hidden costs can subtly inflate the total expense of a loan. These may include application fees, origination fees, and penalties for early repayment. It's crucial to account for these potential costs when calculating the true price of a loan.
Financial Planning: Ensuring Loan Affordability
Ensuring that a loan is affordable within the context of your budget is fundamental. Proper financial planning, which includes forecasting future income and expenses, can help determine a loan's viability and prevent overextension.
Learning from the Experiences of Others
Customer testimonials offer a glimpse into the experiences of those who have navigated the loan process before you. Their accounts can provide valuable insights into a lender's customer service quality and the real-life application of loan terms.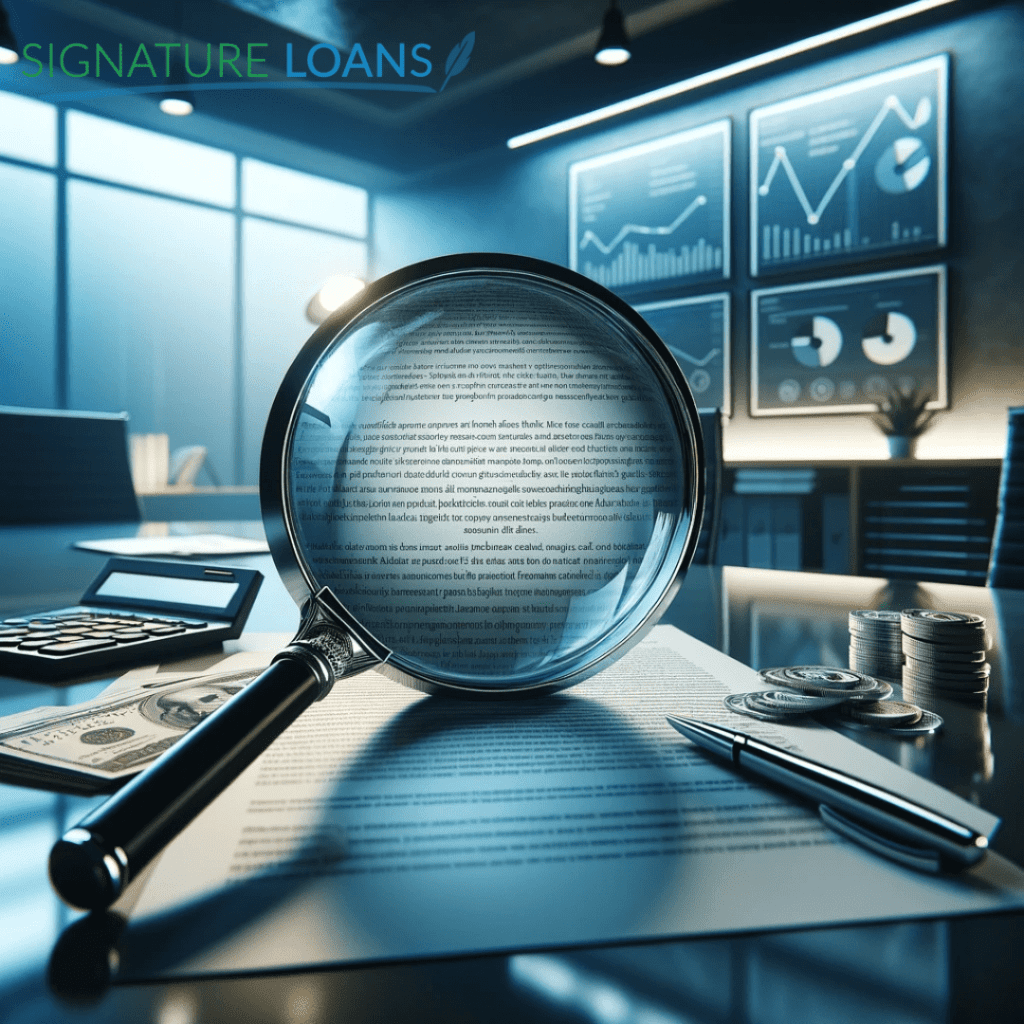 FAQs
What should I consider when choosing between a secured and an unsecured loan?
Consider whether you have assets to offer as collateral, your ability to bear the risk of asset forfeiture, and the comparative interest rates between secured and unsecured options.
How does my debt-to-income ratio affect my loan application?
Lenders use the debt-to-income ratio to gauge your ability to manage monthly payments and repay what you borrow. A lower ratio generally makes you a more appealing candidate for a loan.
What's the difference between pre-qualification and pre-approval for a loan?
Pre-qualification is a lender's estimate of how much you could be eligible to borrow, while pre-approval is a more formal offer for a loan, typically requiring a comprehensive check on your financial background.
Can I refinance a loan if I find a better rate later on?
Yes, refinancing is an option if you find better rates. However, consider any fees associated with refinancing to ensure it's cost-effective.
How long does the loan application process usually take?
The timeline can vary widely based on the lender and loan type. Some online lenders can process a loan within a day, while traditional banks may take a few weeks.
Are there any benefits to paying off my loan early?
Paying off your loan early can save you money on interest and potentially improve your credit score. However, check if there are any prepayment penalties.
What factors should I consider when deciding on the term length of my loan?
Consider how the length of the loan will affect your monthly payments, the total interest paid, and how it fits into your long-term financial plans.
How can I avoid falling into a debt trap with high-interest loans?
Compare different loan offers, read the terms carefully, and make a realistic budget that includes your loan repayments. Avoid borrowing more than you need or can afford to repay.
Is it possible to get a loan with a poor credit score?
While it's more challenging, there are lenders who specialize in loans for those with poor credit. Be prepared for higher interest rates and fees.
Should I use a loan broker or go directly to lenders?
Loan brokers can help you find multiple offers, but they may charge a fee. Going directly to lenders allows you to negotiate directly and avoid broker fees.
Do online lenders offer competitive loan options compared to traditional banks?
Online lenders often offer competitive rates and faster approval times. However, they may lack the personalized service that traditional banks offer.
How important is the APR in comparing loan offers?
The APR is crucial as it reflects the true cost of borrowing, including interest and fees, and allows for a more accurate comparison between different loans.
What should I do if I'm struggling to keep up with loan repayments?
Contact your lender immediately to discuss your options, which may include restructuring your loan, deferral, or other repayment assistance.
Conclusion: Your Path to the Perfect Loan
Embarking on the quest for the best loan requires a blend of thorough research, strategic planning, and savvy negotiation. The key to finding the best loan lies in investigating competitive interest rates, scrutinizing various lines of credit, and understanding the intricacies of lender fees. By ensuring you can manage your loan payments on time, you position yourself to potentially secure more favorable terms. Additionally, being vigilant about keeping extra money aside for loan payments can help you negotiate the lowest interest rate possible, even if you are starting with poor credit. With committed diligence, you can obtain a loan that satisfies your immediate monetary requirements while fostering your financial well-being for the future.

Considering a loan to invest in yourself? Ready to take control of your financial future?
Navigating through financial challenges can be tough, but you're not alone! At Signature Loans, we're dedicated to helping you find the perfect lending solution tailored to your unique needs.
Secure the funds you need, with the flexibility and convenience you deserve!
👉 Get Started Now 👈
Share This!